Skip to Main content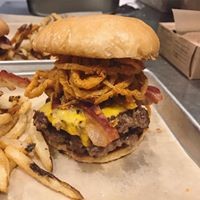 Breakfast
---
Avocado Toast

2 eggs with avocado on wheat toast and tomato slices

Breakfast Bowl

Crispy tater tots, 2 eggs, choice of meat, cheddar cheese, and toast

Chopped Steak And Eggs

Sautéed onions, 2 eggs, shredded home fries and toast

Combo Platter

2 eggs, 2 pancakes, choice of meat and shredded home fries

Corned Beef Hash

Classic homestyle hash served with two eggs and toast

Country Fried Chicken

2 eggs, chicken with sausage gravy, shredded home fries, and toast

Creamed Chipped Beef

Toast or biscuit with shredded home fries

Egg Platter

2 eggs, choice of meat, shredded home fries and toast

French Toast

4 pieces with choice of meat

Oreo French Toast

4 pieces with choice of meat

Pancake Platter (3)

3 pancakes with choice of meat

Sloppy Breakfast Bowl

Crispy tater tots, sausage gravy, 2 eggs, and biscuit

Smoked Brisket Hash

Served with two eggs and toast

Strip Steak And Eggs

2 eggs, shredded home fries and toast

Country Fried Steak

served with hash browns, 2 eggs, and choice of toast
---
Western

Ham, American cheese, onion, peppers

Meatlovers

Ham, American cheese, onion, peppers

Veggie

Onions, mushrooms, peppers, American cheese

Avocado & Bacon

Pepper jack cheese, topped with pico de gallo

Create Ur Own Omellete

Choose a cheese and any 2 ingredients
---
Breakfast BLT

Bacon, egg, cheese, lettuce, tomato

Meat/Egg & Cheese

Choice of bacon, ham sausage, or scrapple

Avocado & Egg

Pepper jack and spinach on English muffin

Scrapple Wrap

Scrapple, eggs, tater tots and cheese. Served with shredded home fries

Southwest Burrito

Scrambled eggs, cheddar cheese, sausage, pico de gallo with shredded home fries

Meatlovers Burrito

Sausage, bacon, ham and cheddar cheese. Served with shredded home fries

Steak Egg Bagel

steak, fried onions, provolone, and a fried egg
---
Main Menu
---
Buffalo Cauliflower Bites

Chicken Thighs 2

Naked, Buffalo, Old Bay, Honey Old Bay, Spicy Garlic, Sweet Chili, Tangy BBQ, and Buffalo Old Bay

Wings 15

Blue dog signature rub, smoked and quick fried to order. Naked, Buffalo, Old Bay, Honey Old Bay, Spicy Garlic, Sweet Chili, Tangy BBQ, and Buffalo Old Bay

Wings 40

Blue dog signature rub, smoked and quick fried to order. Naked, Buffalo, Old Bay, Honey Old Bay, Spicy Garlic, Sweet Chili, Tangy BBQ, and Buffalo Old Bay

Wings 6

Blue Dog signature rub, smoked and quick fried to order. Naked, Buffalo, Old Bay, Honey Old Bay, Spicy Garlic, Sweet Chili, Tangy BBQ, and Buffalo Old Bay

Chicken Nachos

queso cheese, pico, sour cream, and jalapenos

Pork Nachos

queso cheese, pico, sour cream and jalapenos

Brisket Nachos

queso cheese, pico, sour cream and jalapenos
---
Black Jack Wrap

Chicken, pepper Jack, bacon, caramelized onions, lettuce, diced tomatoes

Cheesesteak

Steak or chicken, onions, mushrooms, provolone

Chicken Avocado Wrap

Grilled, Swiss, lettuce, dice tomatoes, cilantro mayo

Club Sandwich

Smoked turkey and ham, lettuce, tomato, cheddar cheese and bacon

Firecracker Shrimp Wrap

Lettuce, avocado, pico de gallo, sriracha mayo

Fried Chicken

Nashville hot or southern style

Monte Cristo

French toast, turkey, ham, Swiss cheese, raspberry sauce

Pit Ham Sandwich

Sliced onions and horseradish

Pit Turkey Sandwich

Sliced onions and horseradish

Pulled Pork Sandwich

House made BBQ sauce and cole slaw

Smoked Brisket Sandwich

Dry rubbed smoked brisket and homemade BBQ sauce

Brisket Cheesesteak

served with jalapenos and choice of cheese

Chicken Parmesan Sandwich
---
Tender & Crispy

Chicken tenders, tomatoes, onions, cheddar, honey mustard dressing

Sweet & Savory

Grilled chicken, apples, almonds, craisins, bleu cheese crumbles, balsamic vinaigrette

Chef Salad

Smoked turkey and ham, hard boiled egg, tomatoes, bacon and cheddar cheese

Honey Sriracha Chicken Bowl

Diced chicken, peppers, onions, and broccoli, served over cilantro rice.

Blackened Shrimp Bowl

shrimp, pickled onion, housemade guac, cherry tomato, and grilled pineapple over cilantro rice with salsa verde.

BBQ Brisket Bowl

smoked brisket, grilled jalapenos, pickled onions and pico de gallo served cilantro rice with salsa verde.
---
Avocado

Swiss cheese, avocado, pico de gallo, cilantro lime mayo

Beyond

Plant based vegan burger, lettuce, fresh pico de gallo, and chipotle mayo

Border

Pepper jack cheese, grilled jalapenos, pico de gallo, and chipotle mayo

Hickory

Blackened, bleu cheese crumbles, sauteed mushrooms, and bacon

Smash

Two beef patties, American cheese, onion slices, and pickles

Sunrise

Cheddar cheese, bacon, fried egg, and bacon relish

Wrangler

Cheddar cheese, bacon, onion straws, and bbq sauce

Steakhouse

Handmade patty, swiss cheese, topped with A1 sauce, mushrooms, and an onion ring

Tiki

teryaki glaze, pepperjack, pineapple and bacon relish

Patty Melt

swiss cheese, caramelized onions on griddled rye bread
---
Full Rib Platter

served with corn bread and choice of 2 sides

Half Rack Platter

served with corn bread and choice of 2 sides

Pulled Pork Platter

served with corn bread and choice of 2 sides

Chicken Thighs Platter (2)

served with corn bread and choice of 2 sides

Brisket Platter

served with corn bread and choice of 2 sides

Strip Steak Platter

served with choice of 2 sides

Fish N Chips

served with french fries and cole slaw

Chicken Tender Platter

served with french fries and cole slaw

Fried Shrimp Platter

served with french fries and cole slaw

BBQ Combo Platter

Half Rack of ribs and 2 Smoked chicken thighs served with corn bread and choice of 2 sides

Fried Chicken Platter

hand breaded chicken served with 2 sides
---
Peanut Butter Swirl Brownie
---
Kids Burger

served with french fries and apple slices

Kids Mac 'n' Cheese

served with french fries and apple slices

Kids Tender

served with french fries and apple slices

Kids Grilled Cheese

served with french fries and apple slices
---
Family Burger Deal

Four cheese burgers, fixings on the side (lettuce, tomato, pickles, onion), fries/onion rings and 6 wings.

Family BBQ Deal 1

2 racks of ribs, 6 jumbo wings, large baked beans, and large coleslaw

Family BBQ Deal 2

1 rack ribs, 1 pound pulled pork, 6 jumbo wings, large baked beans, large coleslaw, and 6 slider rolls

Family BBQ Deal 3

2lbs of brisket, 6 smoked wings, large baked beans, large colesaw, and 12 slider rolls
---